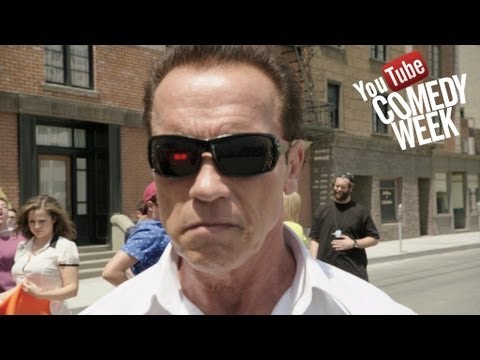 YouTube Comedy Week kicks off with The Big Live Comedy Show on YouTube on Sunday, May 19.
In this video, released by YouTube on May 13, Arnold Schwarzenegger explains why he's excited about the event. 
"You may know me for being the most muscular man in the world....but what you didn't know is that I'm a big fan of comedy," says Schwarzenegger, who promises a selection of the finest names in comedy.
The video features extras performing online memes in the background while the actor, who's most known for his role as the science fiction character in The Terminator franchise, delivers one-liners with ease. The former body builder's heavy Austrian accent and deadpan delivery adds laughs to even the most unassuming lines.
The online event features comedy favourites including Saturday Night Live's The Lonely Island, Vince Vaughn, Ben Stiller, Epic Rap Battles of History, and more.
Find out more about the event here.
YouTube