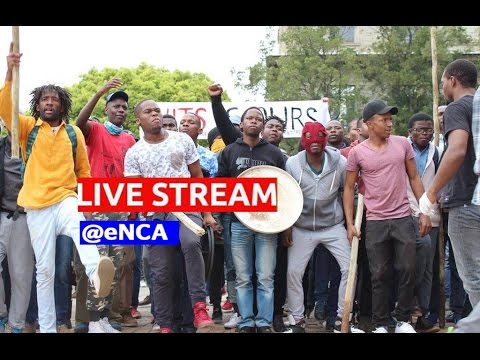 JOHANNESBURG - The Wits University General Assembly was potponed on Friday because consensus could not be reached on the way forward.
Wits vice-chancellor Adam Habib said on Friday during a media breifing that protesting students were prepared to sacrifice the rest of the 2016 academic year.
Although a vast majority of students and staff were ready to resume the university's programme on Monday, not everyone involved in negotiations could agree on all terms in the pledge that was supposed to be read at Friday's General Assembly.
BREAKING: Media being taken to a briefing by #Wits management to announce a "postponement" of the General Assembly. pic.twitter.com/hOfv0edhFJ

— Xoli Mngambi (@XoliMngambi) October 7, 2016
Reading the pledge, Habib said the university was prepared to work with the students to achieve "free, fully-funded, decolonised and quality education" over time.
He said that it would, however be an injustice of epic porpotions to the more than 37, 000 students should the academic year be suspended for the rest of the year.
Habib emphasised that the lack of commitment to return to the university's usual business was the main sticking point in Thursday's talks. 
BREAKING: #Wits VC Adam Habib says despite a "mediation process" which went on till "03h30" on Friday, however, this was "unsuccessful".

— Xoli Mngambi (@XoliMngambi) October 7, 2016
Habib said there would be a council meeting at the weekend to further discuss matters that have caused the current impasse.
The institution conducted a poll among staff and students to determine if the university should reopen its doors after protests forced management to suspend academic activities.
The result was that 77 percent of the poll's participants voted for the resumption of classes on October 3rd.
#Wits VC Adam Habib says his institution has "not throw-in the towel" on resuming the "2016 academic programme".

— Xoli Mngambi (@XoliMngambi) October 7, 2016
After further unrest on campus, the university engaged in dialogue and called a General Assembly to be held on Friday morning, hoping to achieve consensus by that stage. 
The institution's last General Assembly was held more than 10 years ago. The university has only held 10 similar meetings in its 120-year history. 
"It is exceptionally rare that a General Assembly of the university is called. It is an extraordinary event, convened on only the gravest of occasions," said a communique from Wits, which invited all concerned to attend.
"The role of the General Assembly is to adopt resolutions reached by consensus in the University. Wits is holding a General Assembly with the aim to unite all constituencies in a joint stance on an issue of national importance, in this case focusing on access to quality higher education." 
Protests for free education, which have affected 17 of the country's 26 universities, started more than two weeks ago, soon after higher education minister Blade Nzimande announced that these institutions could hike next year's fees by a maximum of eight percent.
The fee hikes will, however, not affect poor students and those whose parents earn less than R600,000 a year.
eNCA