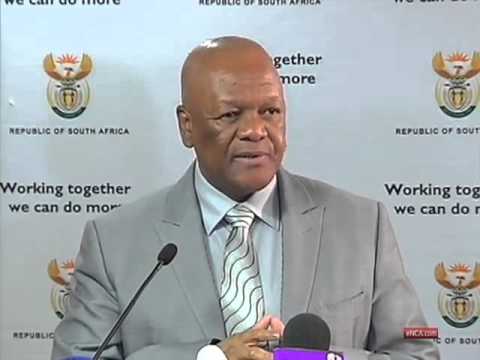 Justice Minister Jeff Radebe on Sunday addressed a media briefing about the controversial landing of a privately chartered jet at Waterkloof Air Force Base.
On April 29, a plane chartered by the Gupta family, carrying 270 wedding guests, landed at Waterkloof. Guests were attending the wedding of Vega Gupta, 23, and Indian-born Aakash Jahajgarhia at Sun City. The landing sparked widespread criticism.
Government initiated a probe into a possible breach of diplomatic protocol. Radebe on Sunday reported back on the findings.
Addressing a specific question about Waterkloof's status as a national keypoint, Radebe said:
"The Waterkloof Air Force Base is a strategic military base....[it] is not a national key point and is not governed by the National Key Points Act...," he said.
"The Air Force Base Waterkloof handles both civilian and military aircraft."
However, he said the landing of a chartered commercial aircraft was a direct result of manipulation of processes.
On the broader investigation, Radebe said government had accepted the following recommendations arising from the investigation "to close all gaps that made this breach possible":
1.          All affected departments must complete their investigations into this matter as soon as possible to ensure that justice is seen to be done, and the required disciplinary measures are fully implemented where deemed necessary.
1.1      This is to ensure that those who made the following transgressions are brought to book:
·                   SAPS Act, Act 68 of 1995: Contravening of Section 67(2)(a): Conspiring or inducing or attempting to induce a member not to perform duty or act in conflict with his duty; and Section 68: Falsely pretending to be a police officer.
·                   Road Traffic Act, Act 93 of 1996: Section 89(3) and Section 68(1) and (2): Use of false registration.
·                   Companies Act, Act 71 of 2008: Section 214(1)(b): Person with a fraudulent purpose knowingly provided false or misleading information in any circumstances under this Act; and Section 214(1)(c): Knowingly a party to an act of omission by a company calculated to defraud a creditor or employee of the company, or a holder of the company securities, or with another fraudulent purpose.
·                   Firearms Control Act, Act 60 of 2000: Section 120(1)(a): Failure to apply for renewal of a licence/permit/certificate authorisation before end of period determined by the Minister.
·                   Common Law Crimes: Fraud, falsely pretending or misrepresenting the existence of a company.
·                   Private Security Industry Regulatory Authority Act, Act 56 of 2001: Section 20(1): Conducting of security service contrary to the Act.
1.2   The following cases have been registered:
·                   Sun City CAS 16/05/2013: Contravention of the Firearms Control Act.
·                   Sun City CAS 18/05/2013: Contravention of the National Road Traffic Act.
·                   Sun City CAS 19/05/2013: Contravention of the PSIRA Act.
·                   Sun City CAS 20/05/2013: Contravention of the PSIRA Act.
·                   Lyttelton CAS 71/05/2013: Contravention of the South African Police Act.
Radebe said government anticipated that more cases would be opened as the investigation continued.
He said going forward, some steps had been taken and more would be taken to prevent a similar incident, including: 
2.          To avoid impunity and to address violations stemming from the landing of Flight JAI9900 at Air Force Base Waterkloof, relevant government departments have imposed fines and are taking corrective action. This includes the imposition of a fine of R80 000 for the failure of the pilot of Flight JAI9900 to obtain a Foreign Operators Permit. 
3.          Government, led by the Department of Public Service and Administration, should develop and implement a public service awareness campaign to discourage the negative culture of name dropping in the form of improper use of the names of members of the Executive in the public sector. In addition, the definition of acts of misconduct should be amended across government to include name dropping as gross misconduct.
"Ministers are instructing their Directors-General to urgently action the relevant recommendations," Radebe said.
Additional reporting Sapa