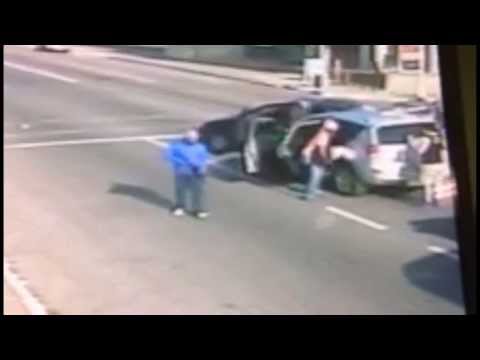 JOHANNESBURG – A hijacking in Johannesburg CBD on Saturday was caught on video.
A group of men in two cars surrounded the white SUV and forced the driver and passengers to disembark.
One of the men held an AK-47 rifle while cars drove past at an intersection of Commissioner and Crown Streets in Jeppestown, bordering the city center.
The incident took place around 16:30 in the afternoon.
The video has had over 15,000 views on the video sharing site at the time of publishing.
That vid of the hijacking in JHB Cbd is sad man.

— I am (@Nthabel) November 17, 2013
South African Police Services said they were alerted to the crime through media reports but a case had not been opened yet.
Meanwhile, Twitter users have expressed their outrage at the incident, while some have shared their thoughts and other similair incidents.
I also wouldn't have stopped, re: hijacking video. Self-preservation >>> moral obligation. #SadButTrue

— Oluwaseun (@Uhnkle) November 17, 2013
This is apparently the third incident at the same intersection in the JHB CBD. Via @FasdaProtect http://t.co/QxVW61Eu7S @CrimeLineZA

— Yusuf Abramjee (@Abramjee) November 16, 2013
CCTV captured the hijacking. 1 can see the suspects armed with AK-47s. @JPSAorg @SAPoliceService @moses_moyo pic.twitter.com/rU85WGLNxi

— FASDA (@FasdaProtect) November 16, 2013
Video was uploaded to YouTube by Laudium100.
eNCA